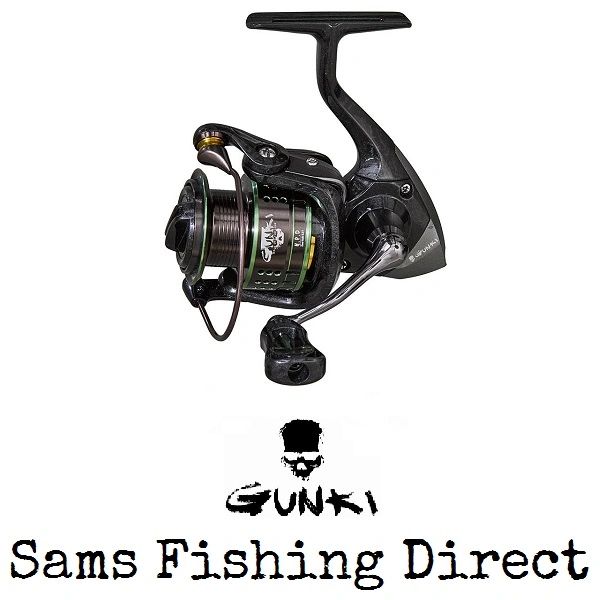 Gunki THG FV
Gunki THG FV Reel 1000

Weight - 155g
Line Cap - 0.16 / 100m
Ratio - 5.2/1
Ball Bearing x 10
60cm retrieve per turn of the handle
Gunki THG FV Reel 1500

Weight - 175g
Line Cap - 0.16 / 140m
Ratio - 5.2/1
Ball Bearing x 10
65cm retrieve per turn of the handle. 
Gunki THG FV Reel 2500

Weight - 215g
Line Cap - 0.205 / 150m
Ratio - 5.2/1
Ball Bearing x 10
73cm retrieve per turn of the handle
Gunki THG FV Reels are a distillation of the very latest technologies to produce two top quality models with very precise gearing for ultra-smooth winding that you will appreciate particularly when playing hard fighting fish. Very light and compact Gunki have selected a carbon composite material for the body and rotor as it offers the best balance between weight and strength.  The reel handle is screwed directly into the command gear and eliminates any risk of play when winding and adds extra cranking power when playing large fish. Multi disk micrometric drag system is protected by a waterproof seal so it stays running smoothly no matter what the weather.  The integrated infinite anti-reverse and aluminium spools with a shallow and the long cast lip designed for a more fluid line transit over the spool lip for better casting performance.  Naturally the reels have an Ultra-S curve cross spiral oscillation system with an oversized titanium line guide with anti-spin technology and with a Drag power of 4kg for the THG FV 1500 and 7kg for the THG FV 2500 these reels really is top of its class.